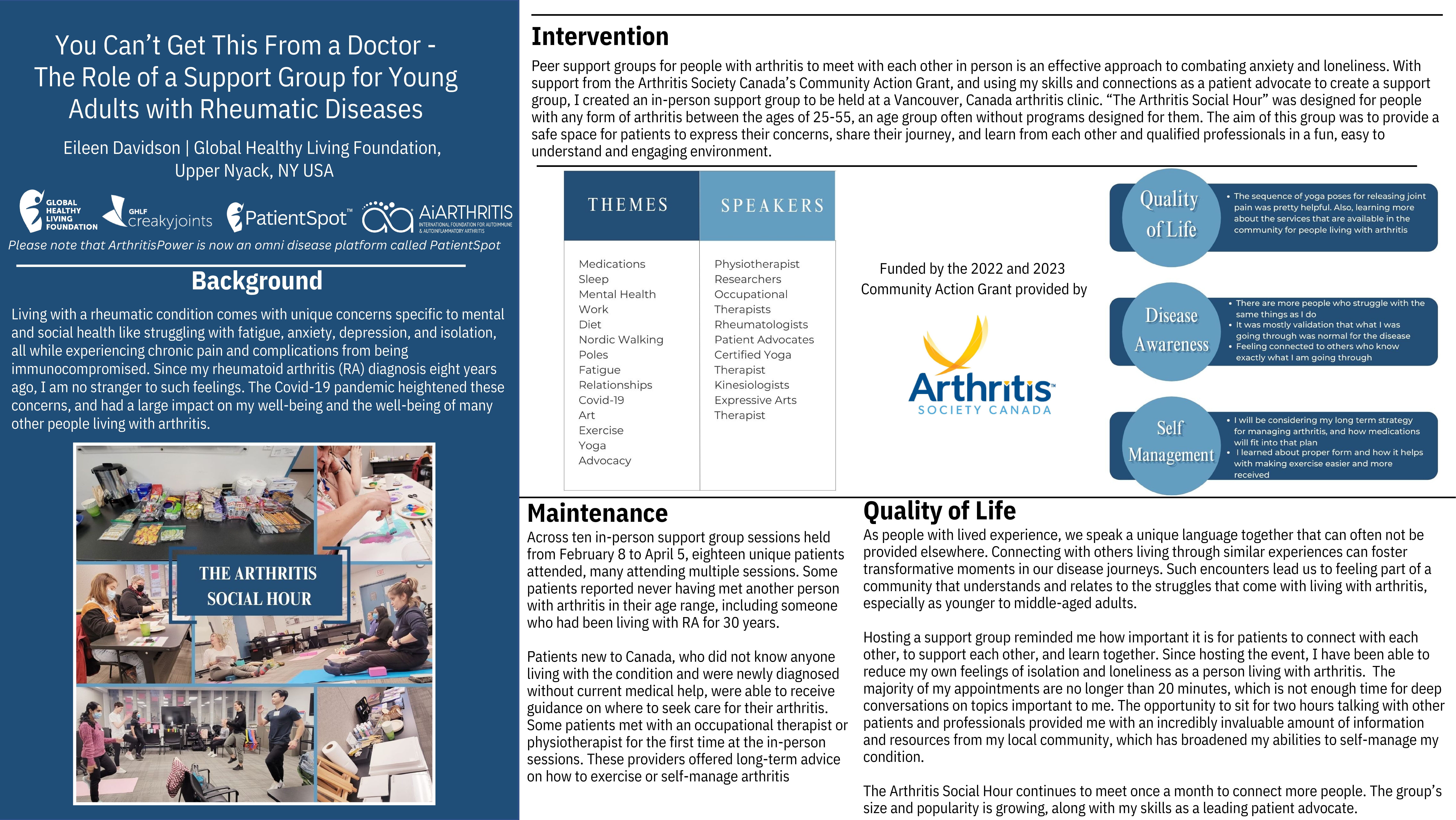 I'll never forget the first time I connected with others who understood what I was going through when I was diagnosed with rheumatoid arthritis (RA). It was as if a weight had been lifted, and suddenly, I didn't feel so alone. That moment made me realize that connecting with individuals facing similar challenges was a crucial step towards acceptance and finding solace amidst the emotional turmoil that followed my diagnosis.
Living with a rheumatic condition brings forth unique concerns, particularly related to mental and social health. Struggling with fatigue, anxiety, depression, and isolation while simultaneously coping with chronic pain and the challenges of being immunocompromised has been my reality since my RA diagnosis nine years ago.
The challenges imposed by the COVID-19 pandemic have exacerbated these concerns for individuals like myself, taking a significant toll on our overall well-being.
Recognizing the growing demand for support, I took the initiative to establish an in-person support group tailored for people with arthritis, with a focus on those aged 25 to 55, although we warmly welcome participants of all ages. This specific age group often lacks programs designed to cater to their unique needs.
With the generous backing of the Arthritis Society Canada's Community Action Grant, and leveraging my experience and network as a patient advocate, I brought "The Arthritis Social Hour" to life. I'm proud to present my findings through a Patient Perspectives Poster entitled "You Can't Get This From a Doctor – The Role of a Support Group for Young Adults with Rheumatic Disease" at the American College of Rheumatology (ACR) Convergence 2023.
The Purpose: Sharing Support, Knowledge, and Resources
The goal of this support group was to create a secure haven for individuals living with any type of arthritis. Here, they could freely voice their concerns, share their personal journeys, and gain insights from both peers and qualified professionals. All of this was achieved within a lively, comprehensible, and engaging setting.
Peer support groups, where individuals with arthritis can meet face-to-face, have proven to be a highly effective strategy in addressing the issues of anxiety and loneliness prevalent within our community.
The majority of my appointments are limited to just 20 minutes, which often falls short when it comes to having deep conversations about topics that are important to me. The opportunity to sit for two hours talking with other patients and professionals provided me with an invaluable amount of information and resources from my local community, which has broadened my abilities to self-manage my condition.
A key objective of The Arthritis Social Hour is to offer support to marginalized communities, including those in the LGBTQIA+ community, newcomers to Canada, Indigenous populations, individuals with low income, and those living with disabilities, all while dealing with their arthritis.
Our support group sessions featured an array of professionals, including yoga therapists, kinesiologists, physiotherapists, occupational therapists, registered dietitians, expressive arts therapists, rheumatologists, and a diverse group of patient advocates, each contributing their unique expertise and insights.

What I Did With The Grant
I successfully applied for and received the grant in both 2022 and 2023, securing a total of $10,000 CAD to fund a distinctive project.
Our sessions covered a wide range of topics, including exercise, art, parenting, COVID-19, Nordic Walking Poles, relationships, advocacy, yoga, nutrition, mental health, work, medications, and fatigue.
With the grant funds, we acquired various supplies, including exercise equipment, art materials, non-perishable food items, beverages, storage solutions, marketing materials, patient resources, and honorariums for our guest speakers.
The Response: You Can't Get This From a Doctor
As individuals with lived experience, we share a unique language that can't always be found elsewhere. Connecting with others who navigate similar experiences can lead to transformative moments in our journeys with arthritis. These connections foster a sense of belonging to a community that understands and empathizes with the challenges of living with arthritis, particularly among younger and middle-aged adults.
The impact of this support group has been significant. Some patients had never met others in their age range living with arthritis, including one individual who had been coping with RA for three decades. Additionally, some attendees had their first encounters with occupational therapists and physiotherapists during our sessions. These professionals offered valuable, long-term guidance on effectively managing arthritis and maintaining a healthy exercise routine.
Patients new to Canada, lacking previous connections and medical support for their arthritis, received valuable guidance on where to access care.
Guests were invited to complete an anonymous survey following their participation in The Arthritis Social Hour, where we gathered their feedback on the support group. The overwhelming majority of attendees had a highly positive experience, expressing feelings of enjoyment, satisfaction, and gratitude for the valuable opportunity to connect with others. Remarkably, all participants expressed their eagerness to attend The Arthritis Social Hour again.
As a result of the event, a significant percentage of those in attendance reported feeling more connected to the arthritis community. A small minority indicated they were still in the process of establishing those connections. Additionally, newcomers to Canada, who previously lacked connections and medical support for their arthritis, said they received valuable guidance on where to access care.
The key takeaways from the event included the reassuring realization that they are not alone in their journey, the recognition of the importance of exploring functional medicine, and the value of sharing experiences and perspectives through thoughtfully moderated discussions.
How It Helps Me
Hosting a support group reminded me how important it is for patients to connect with each other, to support each other, and learn together. Since hosting the event, I have been able to reduce my own feelings of isolation and loneliness as a person living with arthritis.
As a person living with arthritis, I often found that my appointments with health care providers are limited to short durations, insufficient for in-depth conversations about the topics that matter to me. The opportunity to spend two hours talking with patients and professionals has provided me with a wealth of information and resources from my local community.
The Arthritis Social Hour is now a growing monthly gathering, connecting more individuals in need of support. As a leading patient advocate, I am proud to witness the increasing popularity and impact of this group. It serves as a testament to the importance of patients connecting with each other, supporting one another, and learning together.
Be a More Proactive Patient with ArthritisPower
ArthritisPower is a patient-led, patient-centered research registry for people living with chronic conditions. You can participate in voluntary research studies about your health conditions and use the app to track your symptoms, disease activity, and medications — and share with your doctor. Learn more and sign up here.