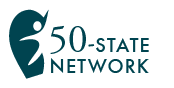 Started by CreakyJoints co-founder and patient advocate Seth Ginsberg, the 50-State Network is a grassroots advocacy organization comprised of patients like you.
The 50-State Network is working to share the patient perspective, which is crucial in the State and Federal health policy and regulatory arenas. Patients need a voice in all conversations that relate to our access to treatment, safety, or the quality of our care.
Join and you'll receive updates on impending legislation at both the national and state levels which could impact your healthcare and the healthcare for millions.
Joining the 50-State Network
Membership is free, and your participation is voluntary. After you fill out the fields below, you will receive a welcome packet and a member of our team will contact you to review your membership, and share more about steps you can take right away to become involved.
If there's a pressing legislative issue where we need our voices heard, we'll put the word out to the 50-State Network. We can then connect you with other network members in your geographical region. And if you're new to advocacy, we can show you how to deal with the media and speak up to legislators.