The U.S. Centers for Disease Control and Prevention (CDC) recently authorized a second COVID-19 bivalent booster shot for those age 65 and older who got their first bivalent shot at least four months ago, and to those with weakened immune systems who got one of those shots at least two months ago. 
In our latest poll, the Global Healthy Living Foundation's COVID-19 Patient Support Program aimed to gain insight on our community's plans on getting this second bivalent booster.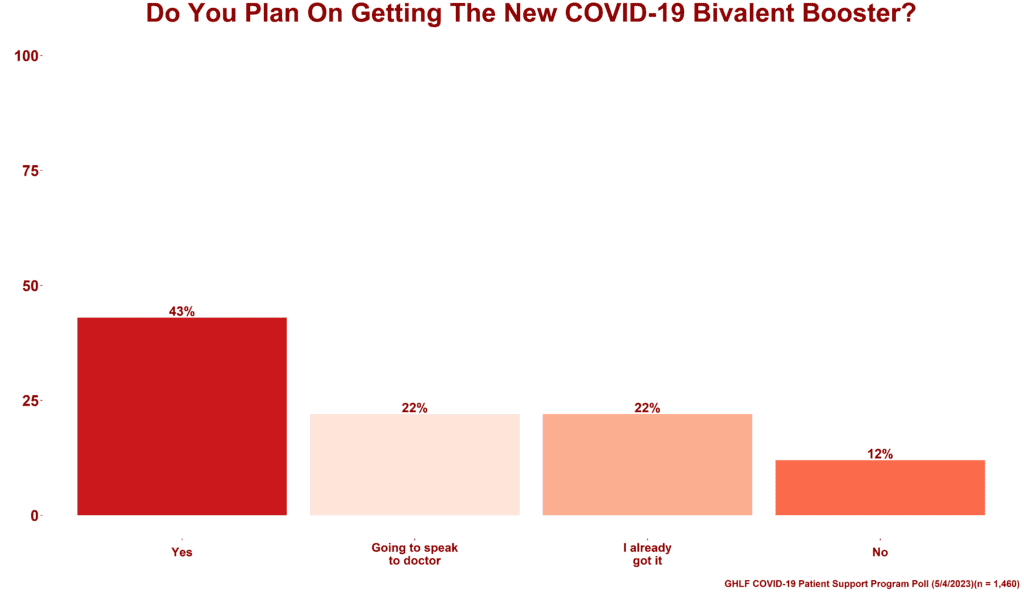 Majority plan on getting new COVID-19 bivalent booster
When asked about plans to get the shot, only 12 percent of the 1,460 respondents answered they do not plan on getting it. Other responses included: 
43% yes

 

22% going to speak to doctor

 

22% already got it

 
In the free response section of the poll, participants were able to elaborate on why they don't have plans to get the new COVID-19 booster. 
Many have concerns about side effects or flare-ups
Many individuals have expressed concerns about post-vaccination side effects, as well as shared their experiences of underlying conditions flaring up after receiving the vaccine. These experiences have sparked worries about the possibility of experiencing similar symptoms again. 
"COVID is less prevalent, and I am concerned with some of the side effects of the bivalent vaccine, and all vaccines in general."

 

"Concerns re: flare-up of preexisting autoimmune condition following initial vaccine and booster."

 

"Have to go off my autoimmune meds, which makes me sicker and has caused long-term damage to joints each time."

 

"I had such terrible side effects from the original shots, I don't plan on getting any more."

 

"I have had a total of five COVID shots and don't want to experience the side effects again."

 

"Last booster caused a significant lupus flare."
Many are confident in their existing protection
Another common theme among respondents was that people are confident in the protection they currently have from the previous vaccines and booster, and the acquired immunity from COVID infection. 
"Had COVID plus had both shots and booster."

 

"I just recovered from COVID, hope my immunity will suffice."

 

"I am not that confident in the additional booster shots and their ability to further enhance my protection."

 
Many don't want to get another shot
Finally, many just don't want to get another shot right now: 
"I do not think it is good to be vaccinating so often. I am not comfortable continuing to booster every six months. I would be less uncomfortable if the vaccine were a nasal administration rather than an injection."

 

"I don't want to get another shot."

 

"I have two boosters already — four is enough, or it should be."

 

"Honestly, pandemic fatigue… although I still mask. I am bedridden after vaccine for entire next day due to myalgia, and although I know logically if I get virus it could be much much worse I am having trouble caring. Instead, I plan to have booster every fall, with flu vaccine."

 
The Global Healthy Living Foundation is committed to providing ongoing education about COVID-19 vaccines for the chronic illness and immunocompromised community.
To stay informed about the latest COVID-19 vaccine news for people who are immunocompromised, take immunosuppressant medications, or have autoimmune conditions, follow all of our COVID-19 vaccine coverage here.
About the Patient Support Program Quick Poll
Members of our program have underlying health issues – such as inflammatory arthritis and other autoimmune conditions, heart disease, lung disease, diabetes, and more — that may increase their risk for COVID-19 complications. They are interested in understanding the best ways to stay safe during the pandemic and to be part of a community of people with similar concerns, questions, and fears.  
We regularly poll members, who live in the U.S. as well as around the globe, about a variety of topics, including how the pandemic is affecting their lifestyle, mental health, chronic disease management, medication adherence, and more.  
We use this information to inform the educational resources we provide and to inform other stakeholders — such as public health experts, policymakers, advocacy groups, health care professionals, and pharmaceutical companies — about chronic illness patients' needs and concerns. You can participate in ongoing poll by joining the support program here.