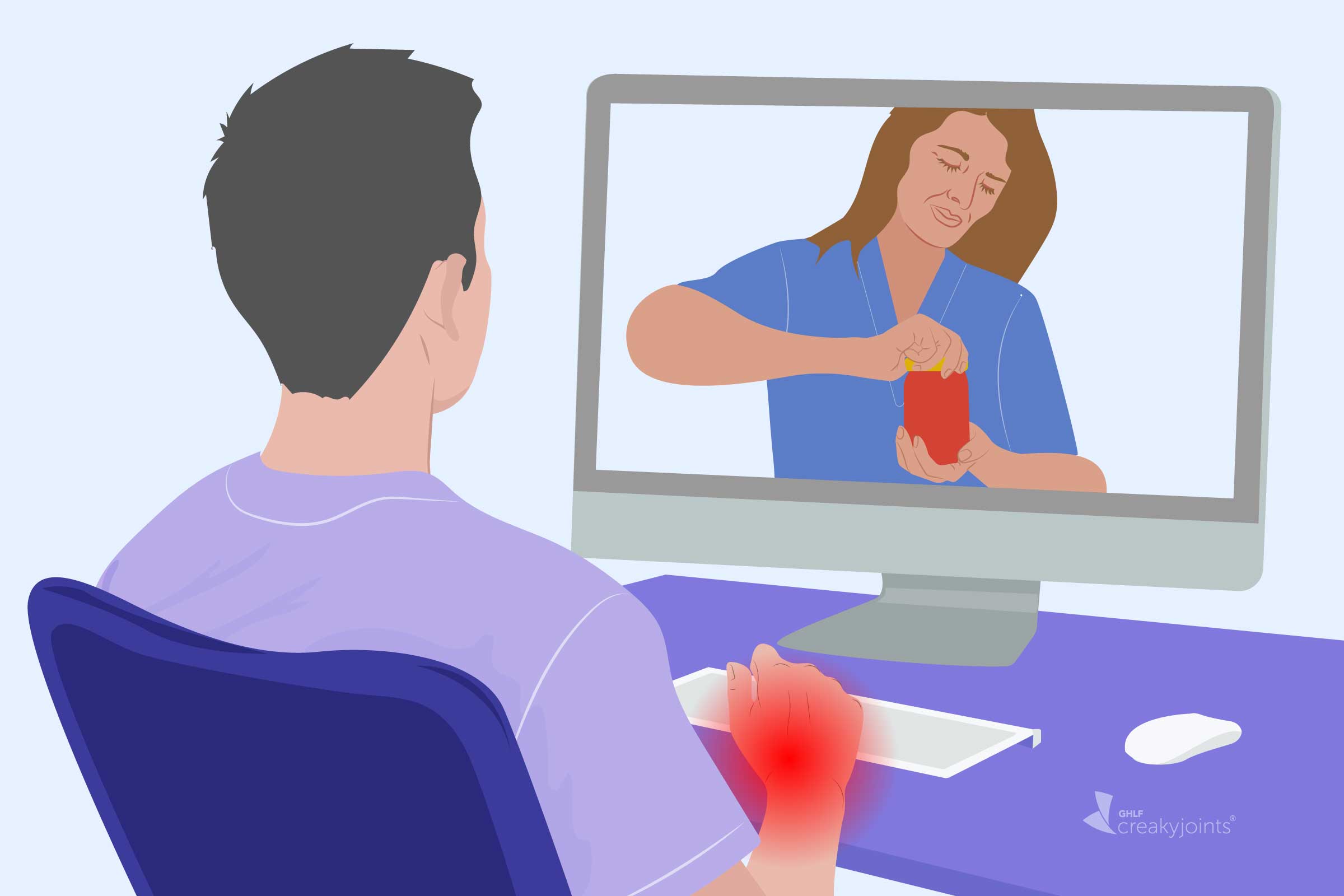 Rheumatoid arthritis (RA) can be a challenging condition to manage due to its often unpredictable flares, which severely impact patients' quality of life. It is nearly impossible for patients to schedule doctor's appointments around these increases in disease activity because of the unpredictable nature of this disease. Therefore, it is crucial to develop ways to support patients outside of the clinical setting.
Telehealth, which become more common due to the pandemic, provides a way for patients to receive virtual care without having to visit the office in person. It's important to note that telehealth is not accessible to all individuals. Some may lack the necessary technology or internet access, while others may face barriers related to health insurance coverage.
Additionally, remote therapeutic monitoring (RTM) has emerged as a way for patients and physicians to track daily and weekly disease activity and experiences related to their condition.
RTM typically requires that patients provide real-time data about their disease via metrics such as pain, fatigue, and physical activity on a consistent basis. This allows patients to monitor and track their experience and helps doctors determine disease progression and the need for additional support.
To further investigate the utility and feasibility of these tools in patient disease management, researchers at the Global Healthy Living Foundation (GHLF), in collaboration with partnering experts and institutions, conducted three studies, to be presented at the annual meeting of the American College of Rheumatology 2023 (ACR Convergence) in San Diego.
The first study, titled "Developing a Guided Joint Self-Exam for Rheumatoid Arthritis Patients to Use in Telehealth-Delivered Care," involved creating a tool for RA patients to conduct a 28 tender and swollen joint count exam from home. The tool was pilot tested by RA patients who provided feedback to improve the success and ease of use. The hope is that this tool will provide a simple and accessible way for patients to perform this exam from wherever they are. "As we move further into the era of telehealth, we wanted to develop a patient-facing training video for patients so that they can perform a joint self-assessment and compare its accuracy with an in-person clinician joint exam (the gold standard)," said Kelly Gavigan, MPH, Director, Data Management and Analytics, at GHLF and co-author of the study.
To encourage the adoption of RTM, GHLF researchers explored the feasibility of collecting daily and weekly data to monitor RA patients starting on a new medication in a study titled "Patient Engagement and Adherence to Digital Study Tasks: WEARable Activity Tracker Study Exploring Rheumatoid Arthritis Patients' Disease Activity using Patient-Reported Outcome (PRO) Measures, Clinical Measures, and Biometric Sensor Data."
Over several weeks, they collected patient reported outcome (PRO) data from nearly 300 people with RA, with moderate or high disease activity who just started a new treatment. The PRO data included everything from disease flares to social activity experience, along with additional data from a wearable tracker.
Researchers determined that collecting weekly PRO data and daily wearable data was a feasible undertaking and did not present significant challenges for participants. However, it was observed that the daily collection of PRO data might be somewhat burdensome for some individuals due to the frequency of reporting. This study will help to better inform how this information can be used by patients to better monitor their disease outside of the doctor's office.
"Importantly, when combined with clinical data the combination may provide a more holistic picture of overall disease," says study co-author Laura Stradford, MPH, Epidemiology, Senior Project Manager, Patient-Centered Research, at GHLF.
The final study, titled "Use of Digital Health Tools to Evaluate Change in Clinical and Patient-Reported Outcomes Among Patients with Rheumatoid Arthritis Initiating Treatment with a JAKi or TNFi" aimed to validate the concept of RTM by comparing patients reported to clinician reported data for patients starting new medications for their RA. Researchers found that patient data corresponded with clinician data, demonstrating the useful tracking patient reported data for those starting new medications.
"Patient-reported data plays a crucial role in helping individuals who are starting new treatments take charge of their treatment journey and helping individuals who have already been diagnosed to stay on top of their disease. These validated measures can also provide great insight to clinicians when combined with clinical data especially on what matters most to patients," says Shilpa Venkatachalam, PhD, Director, Patient-Centered Research Operations and Ethical Oversight.
This contributed to the growing body of literature supporting the ability and utility of tracking patient disease experiences outside of traditional doctor's office visits.
Be a More Proactive Patient with PatientSpot
PatientSpot (formerly ArthritisPower) is a patient-led, patient-centered research registry for people living with chronic conditions. By joining, you can participate in voluntary research studies about your health conditions and use the app to track your symptoms, disease activity, and medications — and you can share this information with your doctor. Learn more and sign up here.