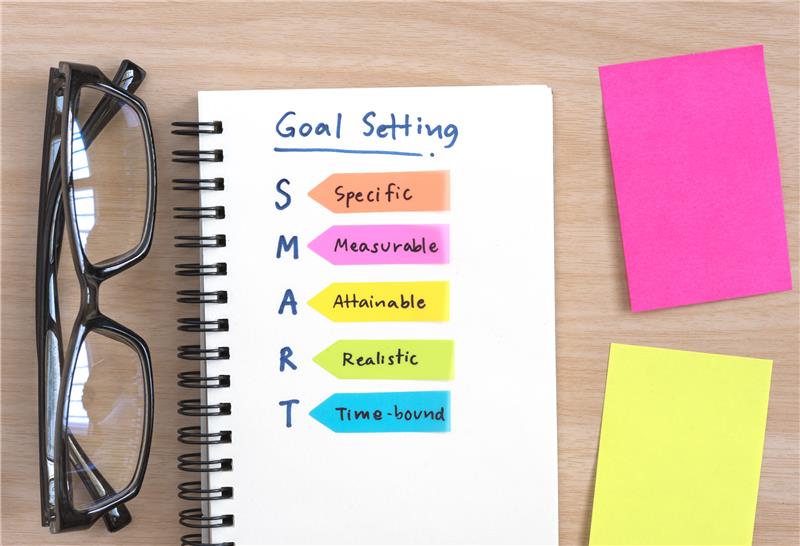 Living with a chronic illness can bring unexpected challenges that may alter our plans and timelines. Symptoms like swollen joints, fatigue, pain, muscle weakness, or instability can make previously attainable goals seem out of reach. However, it's important to remember that these obstacles don't define us, and there are ways to adapt and thrive. 
Catina Morrison, a registered nurse, chronic illness coach, patient advocate, and business consultant, understands firsthand the disruptions chronic illnesses can cause. She herself lives with rheumatoid arthritis, fibromyalgia, and endometriosis. Despite the daily challenges these conditions present, she has successfully set and achieved her goals. 
Catina's expertise and experience have inspired her to help others do the same. She is the Founder and CEO of Nurse Loves Essentials, a blogger, and the host of the Inflamed Sisters Thriving podcast.  
Here, Catina shares some of the tactics she uses to set effective and measurable goals, proving that living with a chronic illness doesn't have to hinder your aspirations. Read on to gain valuable insights from Catina's expertise and experience. 
Preparing to Set Goals
Catina asks herself the following questions when preparing to set goals: 
How much is this going to affect me? A new goal cannot succeed at the expense of what is most important in her life.

 

How much is this going to cost me in terms of time and energy, when inflammatory conditions I live with cause chronic fatigue? Prioritizing her mental health and wellness is critical for Catina, so she takes active steps to ensure her well-being and self-care is always put forward first.

 

What are my non-negotiables? For Catina, her non-negotiables are faith, family, and health. If any goals push these non-negotiables aside, then it's time to reassess goals.

 
Setting Short-Term Goals
Identify short-term goals you intend to accomplish in the near future.  
What are your short-term goals?
I want to be able to __________________________ today/this week. 
Examples:  
I want to be able to cook a meal today without extreme pain and fatigue. 

 

I want to get dressed without extensive pain.

 

I want to be able to drive my kids to school.

 

I want to go to work, then go out to dinner with friends tonight.
Setting Long-Term Goals
Identify long-term goals you intend to accomplish in the near future. 
What are your long-term goals?
In six months from now, I want to be able to ______________________________  
In two years from now, I plan to be able to _______________________________ 
Examples:  
In four months, I want to be able to bike for 10 miles and not be in a terrible flare for weeks afterward.

 

In six months from now, I want to be able to walk at least three miles five times or more per week.

 

In one year, I want to go on a moderate hike.

 

In eight months, I want to travel to my friend's wedding.

 
What Are Your Goals?
We asked our CreakyJoints community what goals they have right now. 
"This week I would like to hoover and mop my floors. Over the next four months, I would like to renovate my small spare room."  — MP

 

"I have a goal bank. In the last few years, I've upped my game at work, learned to paint with pastels, acrylics, and watercolors. This year I'm learning French… Next year, I want to learn to play the keyboard (guitar is a no-go with my hands)." — NK

 

"Today I'm okay. I vacuumed and baked cookies. I've gotten so weak from being afraid to do things, so longer term, I'd like to build up strength."  — TZ

 

"Be active more than an hour a day; return to the pool for an hour at a time." — MP

 

"I don't know what my goals are right now. Just maintaining my mobility at this point. I will say though that I have had to adjust my expectations of myself so that I don't set goals and fail."  — SM

 
Making Your Goals SMART
SMART goals are Specific, Measurable, Attainable, Relevant, and Time-Bound. We think of SMART goals when it comes to production and meeting goals at work, however, why can't this apply to our own health care or personal goals?  
Create a SMART goal for your own health care journey.
Example 1: 
S

pecific: I want improve my walking pace to participate in a 5K six months from now.

 

M

easurable: Using a fitness tracker, I will collect data to monitor how far I can walk in one hour.

 

A

ttainable: I've been walking between 2.5 and 3 miles in one hour 4 times per week. 

 

R

elevant: My health is important to me, and this exercise goal will help me stay active. I have to walk my dogs in the morning anyway. 

 

T

ime-bound: The 5K is in six months, so I need to be prepared by then. 

 
Example 2: 
S

pecific: I will get better quality sleep every night to have more energy.

 

M

easurable: I will measure my sleep quality through the sleep disturbance feature of the

PatientSpot

 

app as my sleep quality improves based on not eating 3 hours before bed and not using my cell phone 30 minutes prior to sleep.

 

A

ttainable: I aim to decrease sleep disturbance by 10%.

 

R

elevant: Getting better sleep directly impacts how much energy I have the next day.

 

T

ime-bound: I will do this for two months to form better sleeping habits. 

 
Catina Morrison's SMART Goal
When Catina embarked on her journey to establish her own business, she approached each day with unwavering intention for at least six months. She went on social media three times a week to share her knowledge about health and wellness. "I just wanted to be able to maybe impact one person," says Catina. "It was a small thing — just maybe touch one person a day." 
Catina's advice to others embarking on a goal-setting journeys: "When you're setting goals, prioritizing you is vital," she says. "If you lose sight of self-care, mental health, emotional health, it's eventually going to affect your physical health." 
This is especially true when you are living with a chronic condition. "Your body will turn on you if you continue to neglect what's important," she says. "Stress and anxiety — you can't keep suppressing it. For me, that meant pursuing therapy so I could extend the length of time that I have to not only care for myself appropriately, but also to help others and be fulfilled by that." 
How Your Doctor Can Support Goal Setting
According to Catina, here are some key questions doctors can ask patients to support the goal-setting process. 
We encourage you to bring this list to your next doctor's appointment and share it with your health care provider. These questions are designed to help you and your doctor work together to create a personalized health care plan that aligns with your goals and priorities. 
What are we going to be able to do to keep you healthy?

 

While you are reaching goals, how are your labs looking? What is your energy level like?

 

What are your goals for your health?

 

What are your goals for your business?

 

Are you exercising? 

 

Are you eating healthy meals? How often?

 

What is your emotional status?

 

Is anxiety or depression impacting your ability to keep working or doing what you like to do?

 

What things are you unable to do because of your health?

 

What is your health keeping you from being able to achieve?

 

Is your health limiting you in developing relationships with others?

 

How does your chronic disease impact your whole life? 

 

How are you owning yourself and achieving your goal? 

 

Is it limiting you in developing relationships with others?