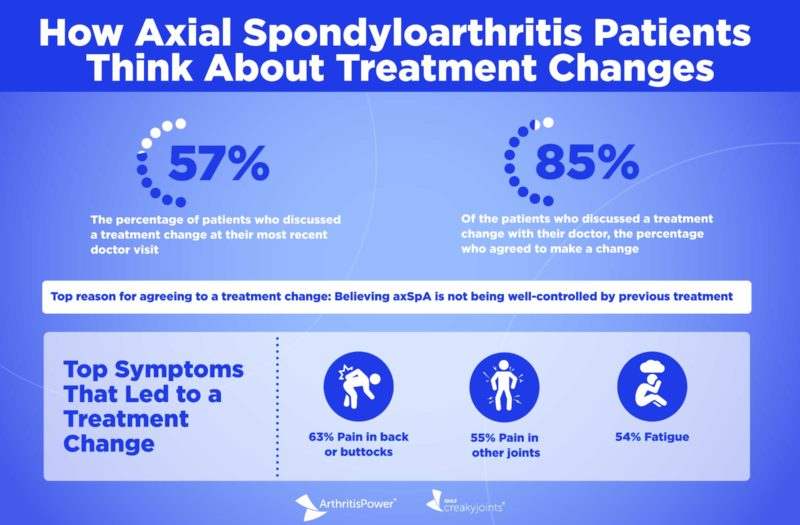 When you're diagnosed with axial spondyloarthritis (axSpA) — a type of inflammatory arthritis that predominantly affects the spine and sacroiliac joints in the pelvis — getting on treatment right away is key.
This type of arthritis often causes very painful and debilitating back and hip pain and has a big impact on patients' quality of life, including their ability to work, socialize, have good mental health, and more.
Axial spondyloarthritis is an umbrella term for two autoimmune conditions: ankylosing spondylitis (AS) and non-radiographic axial spondyloarthritis (nr-axSpA). In AS, there is joint damage to the spine or sacroiliac joints that is visible on X-rays. People with nr-axSpA have similar symptoms, but do not have joint damage on X-rays (also called radiographs).
For many reasons — especially that it often takes axSpA patients many years to get a correct diagnosis, which can lead to worsening symptoms and disability — finding a treatment that works to control axSpA disease is not always easy. In addition to back pain, axSpA is also associated with fatigue, pain in other joints, eye inflammation, psoriasis, inflammatory bowel disease, and more.
To treat axial spondyloarthritis, people commonly start taking non-steroidal anti-inflammatory medications (NSAIDs). If those don't work well enough, then patients are typically advised to start a biologic medication. These drugs act on the immune system in a more targeted way to reduce inflammation.
While there are axSpA treatment guidelines (start with NSAIDs; then start a biologic disease-modifying drug; switch if the first biologic doesn't work) established for doctors to follow, we don't know as much about the process patients go through when it comes to changing their axSpA treatment.
Researchers, including those from our non-profit organization, the Global Healthy Living Foundation (GHLF), set out to learn more about what drives patients to consider changing their axSpA treatment — or not.
In research presented during ACR Convergence 2020, the annual meeting of the American College of Rheumatology, researchers surveyed 274 patients who reported a diagnosis of axial spondyloarthritis in our ArthritisPower research registry. Patients' responses were grouped into two main categories: those on biologic medications and those not on biologic medications.
Here are some key learnings from the study.
1. Many patients are proactive about discussing treatment changes.  
The survey found that 57 percent of patients in this sample discussed a treatment change at their most recent doctor visit; of those, almost half reported that they initiated the conversation themselves, and 80 percent of patients who discussed a treatment change had done research about treatments for axSpA before their appointment.
Even still, this study shows there is room for improvement. "As we work to improve treatments for axSpA, we also need to work to improve communications about treatments, with both patients and health care providers," says study co-author Jessica Walsh, MD, a rheumatologist and instructor at the University of Utah School of Medicine and George E. Wahlen Veteran Affairs Medical Center.
Interestingly, a significantly greater proportion of people on a biologic medication discussed switching medications (52 percent) or increasing their dose (43 percent) compared with people who were not on biologic medications. Only 27 percent of patients not on a biologic discussed switching and only 17 percent discussed increasing their dose.
2. Axial spondyloarthritis patients are struggling with many symptoms, which affects whether they seek a treatment change.
On average, patients in this study reported high axial spondyloarthritis disease activity according to a measure called the BASDAI. On a scale of 0-10, the average score of patients in this study was 8.3. (A score of 4 or greater indicates that a person's axSpA is not well-controlled and are good candidates for a change in their treatment.)
In the study, participants selected the symptoms they were currently experiencing that led them to change their treatment. The most common ones included:
63 percent said pain in the back or buttocks
55 percent said pain in other joints
54 percent said fatigue
"Patients seem to want more from their axSpA treatment and the symptoms that lead them to seek a change in treatment are ones that seem to matter most to axSpA patients," says study co-author W. Benjamin Nowell, PhD, director of Patient-Centered Research at CreakyJoints and principal investigator of ArthritisPower. "Fatigue may not always be considered as an important symptom to doctors, but this study seems to tell us that after joint pain, patients are seeking better relief for this symptom."
3. Patients are somewhat deferential to their providers when it comes to discussing treatment changes.
Of the few patients who did not discuss treatment changes with their provider during their most recent visit, the main reason was their own or their provider's satisfaction with their current treatment.
Other reasons for not discussing treatment changes included such factors as a change in or lack of access, a lack of testing or results, the belief that changing medication is not an option or not needed, or patients thinking that the doctor does not listen to their concerns.
4. Preventing damage and long-term consequences of axSpA are very important to patients on a biologic when making decisions about their treatment.
Not only does axial spondyloarthritis cause symptoms like pain and fatigue; it can also lead to long-term complications and health issues if left untreated. This understanding came through loud and clear when patients who were already taking a biologic shared the factors most important to them when considering treatment change decisions:
92 percent of patients said preventing other consequences of untreated axSpA was a factor
89 percent of patients said preventing damage from axSpA was a factor
88 percent of patients said advice from their doctor was a factor
71 percent of patients said their doctor's ability to see/talk to them about problems or questions was a factor
65 percent of patients said how good or bad the disease is making them feel at the time they make a treatment decision was a factor
 5. Wanting their disease to be better controlled is the top reason patients agree to change axSpA treatment.
Of the patients who discussed a treatment change with their doctor (156 people), 85 percent (133 people) agreed to make that change.
Regardless of what kind of medication they were taking, most patients who agreed to a change said it was because their disease was not being controlled by the medication they were currently on — 55 percent of patients said this was a driving reason.
"Being an informed and proactive patient can directly translate to changes in disease treatment, which may help people feel better and achieve better long-term health and outcomes," says Louis Tharp, co-founder and executive director of CreakyJoints and the Global Healthy Living Foundation. "When axial spondyloarthritis patients use a tool like ArthritisPower to track their symptoms, it can lead to better understanding of how their condition is affecting their physical and mental health, which in turn can drive patients to seek better care."
Found This Study Interesting? Get Involved
If you are diagnosed with arthritis or another musculoskeletal condition, we encourage you to participate in future studies by joining CreakyJoints' patient research registry, ArthritisPower. ArthritisPower is the first-ever patient-led, patient-centered research registry for joint, bone, and inflammatory skin conditions. Learn more and sign up here.
This study was sponsored by Eli Lilly, which is a corporate sponsor of the Global Healthy Living Foundation.