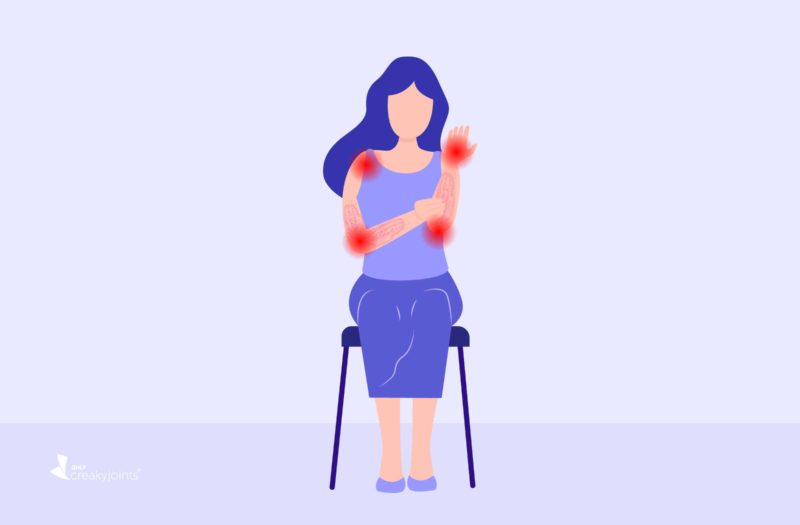 Key Takeaways
1 in 10 autoimmune rheumatic disease patients had a flare after getting a COVID vaccine.

1 in 3 autoimmune rheumatic disease patients had a flare after developing a COVID infection.

 

Vaccination reduces the risk of COVID infection and serious disease.
If you live with an inflammatory type of arthritis or rheumatic diseases, it's crucial to know that health experts strongly recommend getting vaccinated against COVID. The American College of Rheumatology (ACR) has been actively urging patients like you to protect yourselves by rolling up your sleeve and getting vaccinated. This is because you be especially vulnerable to the severe outcomes if infected with COVID.  
According to Jeffrey Curtis, MD, Chair of the ACR COVID-19 Vaccine Clinical Guidance Task Force, although there is limited data from large-scale studies, there is concern that patients with autoimmune and inflammatory conditions are at a higher risk of hospitalization and experience worse outcomes with COVID infection compared to general population. "Based on this concern, the benefit of COVID-19 vaccination outweighs any small, possible risks for new autoimmune reactions or disease flare after vaccination," he said in a 2021 ACR press release. 
Since then, the core message remains unchanged: individuals with rheumatic diseases are vulnerable, and the benefits of vaccination outweigh potential risks. However, as more data has been gathered, it has become evident that the likelihood of experiencing a flare after vaccination is not as minimal as initially hoped. 
About the Study
A recent study published in Rheumatology revealed that 1 in 10 people with autoimmune rheumatic diseases experienced a flare shortly after receiving a COVID vaccine. It is not entirely clear if the vaccine itself triggered the flare, as many patients temporarily halt their regular medication regimen before or after vaccination. 
Due to the fact that many of these patients are taking medications to suppress an overactive immune system, these medications may interfere with the immune-boosting effects intended by the vaccine. In light of this, the American College of Rheumatology (ACR) has provided clinical guidance advising patients to pause the use of certain medications for a period ranging from one day to two weeks before and/or after each vaccine dose. Adjusting the treatment plan may increase the likelihood of experiencing a flare following vaccination. 
Flares and Vaccination: Risk Factors and Benefits
The new study analyzed data from more than 15,000 patients and found that nearly 3,500 of them experienced a flare after receiving the COVID vaccine. Patients with multiple comorbidities, including multiple autoimmune disorders, were more prone to this issue. Those with underlying mental health disorders and those who received the Moderna vaccine had a higher likelihood of reporting a post-vaccination flare. 
However, there were positive findings as well. Users of mycophenolate and glucocorticoids were less likely to experience a flare after vaccination. It's important to note that getting vaccinated significantly reduces the risk of contracting a COVID infection or experiencing severe illness. COVID infection itself is a risk factor for flaring. 
"We did find nearly one in 10 patients to experience a flare in the period after taking the vaccine," the study authors told Healio Rheumatology. "However, additional analysis from our study (in press) identified that one in three individuals are at risk of flares after COVID infection, reiterating the importance of timely vaccination." 
What This Means for You
The benefits of the COVID vaccine continue to outweigh the risks for individuals with rheumatic autoimmune conditions.  
It is advisable to consult with your doctor to carefully consider the advantages and disadvantages of temporarily suspending any of your regular medications in order to enhance the effectiveness of the vaccine. Your health care provider can provide guidance tailored to your specific situation and help you make an informed decision.
Get Free Coronavirus Support for Chronic Illness Patients
Join the Global Healthy Living Foundation's free COVID-19 Support Program for chronic illness patients and their families. We will be providing updated information, community support, and other resources tailored specifically to your health and safety. Join now.